Product Description
Key Benefits
Extend your understanding of psychology and counselling
Learn the skills counsellors use to help people resolve their problems and issues
Developed and delivered by psychology and counselling experts
This course is Internationally accredited by the IARC
Receive a FREE 12-month membership to the International Association for Counselling
Receive a FREE 12-month membership to the International Association for Counselling:
Maya Light
Maya is a provisionally registered clinical psychologist with a genuine passion for her subject. She has a lifelong thirst for knowledge, particularly when it comes to understanding how we perceive the world around us. Since achieving her psychology degree in 2007, she has tutored a number of courses for psychology students, and run workshops and support groups for people with eating disorders, Obsessive Compulsive Disorder (OCD), anxiety and depression.
Tamara
Tamara has always enjoyed helping people to achieve their goals. She has a Bachelor of Arts with Honours from the University of Auckland, double majoring in Psychology and Neuroscience; and she is planning on pursuing her PhD in Clinical Psychology.
Tara
Tara is originally from Ireland, but has been living in Australia and New Zealand for the last few years. She has a Bachelor of Science with Honours from Liverpool John Moores University School of Law. She specialised in Forensic Psychology and Criminal Justice, and volunteered with domestic violence charities back in Ireland.
Daniella
Danni is a registered psychologist with experience working in a range of environments. Areas of expertise include ABA therapy for children diagnosed with ASD, child and adolescent school counselling, crisis counselling, and emergency interventions. Danni has over four years demonstrated experience in counselling and mentoring services, and hopes to inspire and support students who share her passion for psychology.
What our students say: 
★★★★★ "The course is brilliant, it is easy to understand and the detail of knowledge is also easy to absorb. The tutors have been extremely helpful and prompt to reply. I find that I don't have to use them much at all as the content is self-explanatory." - Lynaire Hartley
★★★★★ "YOU GUYS ARE AMAZING" Courtney Teahan
★★★★★ "I wanted to further my skills and knowledge as well as continue to work full-time and studying through the career academy was a great way for me to achieve this.." - Zara Buckton
★★★★★ "It is hard to say one thing I like about the course because I am enjoying all of it. I am happy with the resources I have received and would rate my overall experience 5/5 so far." - Krista Michelle Clapham
Course Summary
Assessments: Includes case studies, quizzes and written assessments.
Delivery and support: Online with tutor support via email or phone.
Duration:  600 hours.  Learn at your own pace, but ideally complete this diploma in six months (ie one module per month).
Career Academy Level: 6
Access Time: You will have access to this course for up to 12 months until you complete.
About the developers: This course has been developed by highly qualified psychologists with many years working experience.
Pre-requisites: There are no pre-requisites for this course but we do recommend you complete the Certificate in Psychology & Counselling first before starting the Diploma in Psychology.
This course comprises of six modules: 
Module 1: Introduction to Psychology
The nature and scope of psychology
Neurological basis of behaviour
Environmental effects on behaviour
Consciousness and perception
Personality
Psychological development
Needs, drives and motivation
Module 2: Psychology & Counselling
Stress
Abnormal behaviour
Individual behaviour
Group behaviour
Methods of dealing with abnormalities
Conflict resolution
Interpersonal communication skills
Module 3: Counselling Skills
Learning specific counselling skills
Listening & bonding
Reflection
Questioning
Interview techniques
Changing beliefs and normalising
Finding solutions
Ending the counselling
Module 4: Advanced Counselling Skills
The Counselling Session - how micro-skills come together
Focus on the Present - present experiences; feedback; transference; projection; resistance
Telephone Counselling - non-visual contact; preparation; initial contact; overall process; debriefing; types of problem callers
Dealing with Crises - defining crisis; types of crisis; counsellor's responses and intervention; post-traumatic stress
Aggression - expressing anger; encouraging change; role-play; externalising anger
Depression - blocked anger; referral practice; chronic depression; setting goals; promoting action
Grief and Loss - loss of relationships; children and grief; stages of grief
Problem-Solving Techniques : Suicide - ethics; reasons for suicide; perceived risk; counselling strategies;
Module 5. Counselling Techniques
Psychoanalytic psychotherapy l - Freud, Erikson, Jung
Psychoanalytical psychotherapy ll - Adler
Humanistic/Existential approaches I - Gestalt Therapy; Fritz Perls
Humanistic/Existential approaches II - Person-Centred Counselling; Carl Rogers
Rational behavioural therapy - Albert Ellis
Cognitive behavioural therapy - Aaron Beck
Behavioural therapy
Solution-focused counselling
Module 6. Professional Practice in Counselling
Understanding Counselling
Ethics & Confidentiality
Understanding the Self: Self-awareness; Self-monitoring; Self-concept; Social Perception; Attribution theory.
Personality: What is a healthy personality?; Trait approach; Psychodynamic approach; Humanistic approach; Social learning and cognitive approaches.
Emotions & Behaviour: What are emotions?; Emotions and Counselling; Effect on communication
Supervision: Why supervision?; Working with others; Quantity and effectiveness of supervision; Personal counselling; Dependency; Types of supervision.
Referral Practice: Counselling v mental health issues; Secondary care counsellors; Abnormal psychology; Anxiety; Depression; Schizophrenia; Personality disorders.
Complimentary eBook: Coping Better with Negative Emotions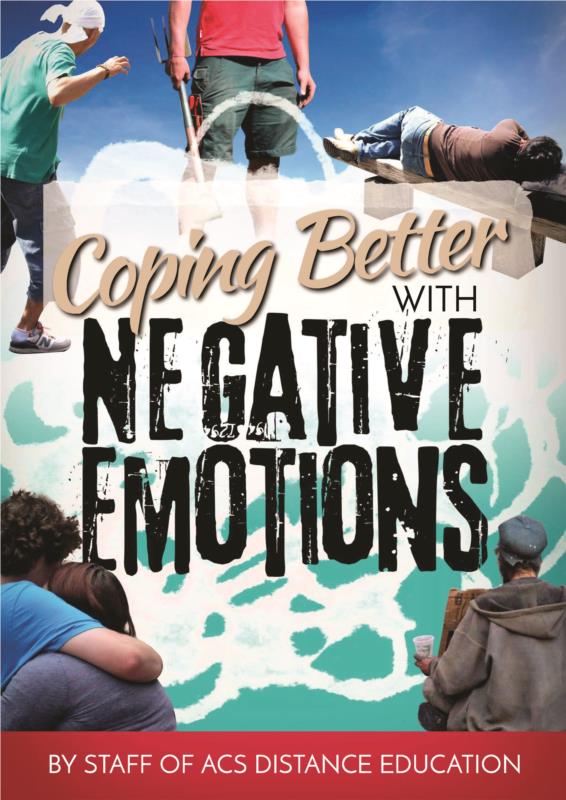 A rapidly changing world can cause stress, but it is how we deal with that stress that matters. We can look at
change from another angle - rather than a threat to our way of life, we could see it as an opportunity for new experience and new knowledge.

Some people cope with stress by understanding and minimizing the things that stress their body. Others use medication to mask problems caused by stress, such as pain. Some people simply do not cope, and develop negative emotions.

This book is designed to help you understand the things that cause stress, the problems that can arise, and the broad range of ways people might manage their stress.
Complimentary eBook: Psychology Dictionary
This ebook has been developed as a reference tool for the discipline of Psychology. The Psychology Dictionary contains descriptions for common terms used in Psychology. There are many terms used in the area of Psychology alone, that are explained throughout this text. Other terms have been taken from everyday language and used in a different context to describe psychological phenomena.

The Psychology Dictionary can be used to complement studies in Psychology or Counselling, as a resource for the professional, or as a reference for anyone interested in Psychology.
Complimentary eBooks: Introduction to Psychology by Charles Stangor
Charles Stangor's Introduction to Psychology utilizes the dual theme of behavior and empiricism to make psychology relevant to intro students.Charles wrote this book to help students organize their thinking about psychology at a conceptual level. Five or ten years from now, he does not expect his students to remember the details of most of what he teaches them. However, he does hope that they will remember that psychology matters because it helps us understand behavior and that our knowledge of psychology is based on empirical study.

Investment:  $1795 + GST or only $25 per week on an interest free payment plan.